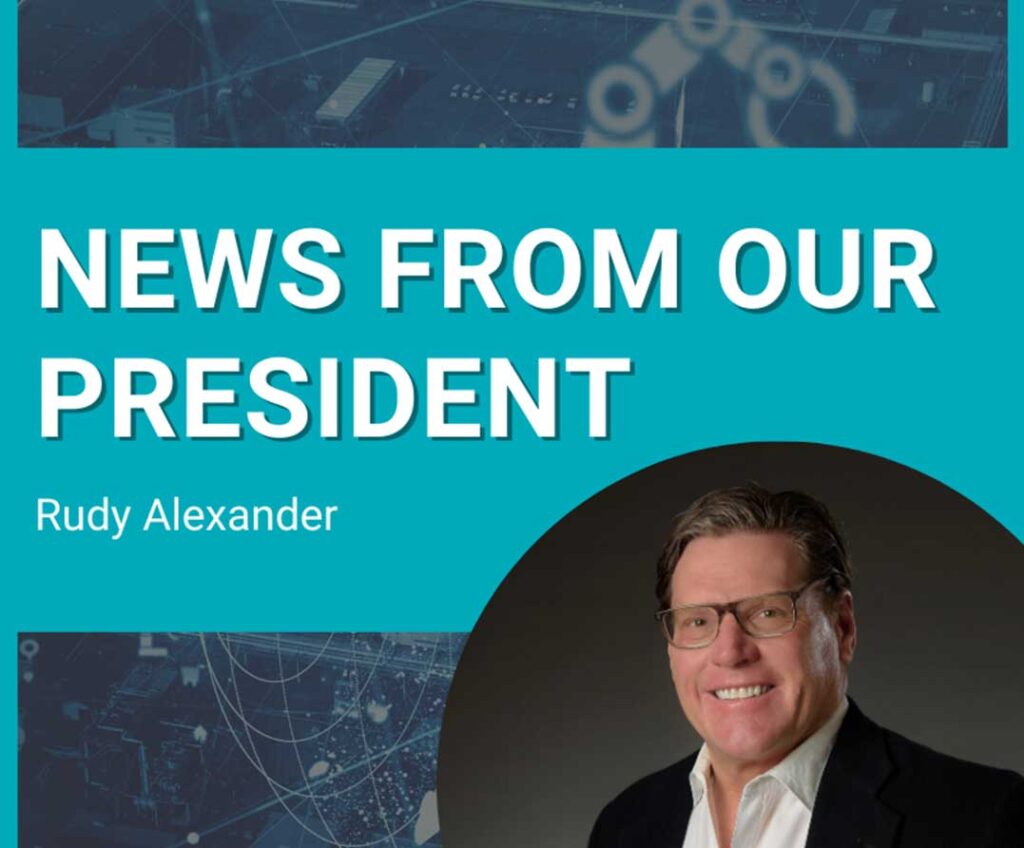 A quarterly update from Breadware President, Rudy Alexander
When I joined Breadware six months ago, I could only have imagined the level of progress our company and clients would reach by this time. Reflecting on the early months of 2023, I'm immensely grateful to each member of the Breadware team for supporting our clients with such dedication and ingenuity. I'm proud to share a few recent highlights in this blog – the first in a series marketing has coined "The Rudy Report." Thank you for reading.
Joining the Industry Organization, RIoT
Breadware just joined forces with RIoT, a fantastic collective of IoT companies all striving to disrupt status quo using the power of smart technologies. RIoT and its members host a variety of in-person and virtual events to help accelerate progress and innovation for the businesses we serve. Breadware's video series, In the KIoTchen, was  privileged  to have RIoT's Executive Director, Tom Synder, "stop by" for a conversation all about IoT and how it changes lives. If you haven't seen the episode already, trust me when I say you're missing out.
Breadware's first event with RIoT will be a virtual Lunch & Learn on June 14th — so stay tuned for more information on the topics we'll cover and how you can sign up to attend.
Providing "Sliced" Development Times and Smarter Software to Clients
The Slice circuit board has proven itself to be an incredible component to our fast IoT deliverable- for our clients' product development plan. Recently, our team has been working to build circuit boards and coordinating firmware for a water management system. The Slice board can be easily customized and rapidly integrated, enabling a more adaptable solution that addresses past issues they've experienced with equipment connectivity.
Breadware's IoT software platform, Rise, has also been central to providing our clients and their customers with clear visibility into critical data from their smart devices that provides the information needed to make better business decisions. . The platform provides businesses across multiple industries with access to device data, and information that has produced drastic improvements to their operation, customer engagement, and bottom line.
Reaching 100% Employee Ownership
Breadware  is proud to start 2023 as an 100% ESOP-owned company along with our parent organization, StoneAge. Our employee stock ownership plan (ESOP) secured complete ownership of company stock, positioning all StoneAge and Breadware employees for truly rewarding careers and remarkable, lucrative retirements in the future. Thank you to StoneAge founders, John Wolgamott and Jerry Zink, for their vision and generosity that ultimately made this possible.  
A people-first ownership model, an ESOP functions by purchasing company stock and then holding those assets in a trust for employees to access at retirement (instead of those dollars going to the public stock market). For more on this topic, check out this article by StoneAge CEO, Kerry Siggins, about the purpose and benefits of employee ownership— it's a great read.
Creating Innovative Industrial Smart Products with StoneAge
In conclusion, I'm very proud of the work our team is doing with StoneAge to rapidly develop high-performing smart products for the industrial cleaning industry. Together, we're focused on creating systems that deliver major safety and efficiency improvements, along with key operational data to make critical industrial tasks faster, easier, and less wasteful.
One example is StoneAge's Sentinel Automation Technology — a system of industrial-grade, connected sensors that enable heat exchanger tubes to be cleaned 30% faster than before, not to mention the improvements it makes to operational safety and efficiency. Furthermore, this technology provides key data insights to help both operators and asset owners make more informed decisions.