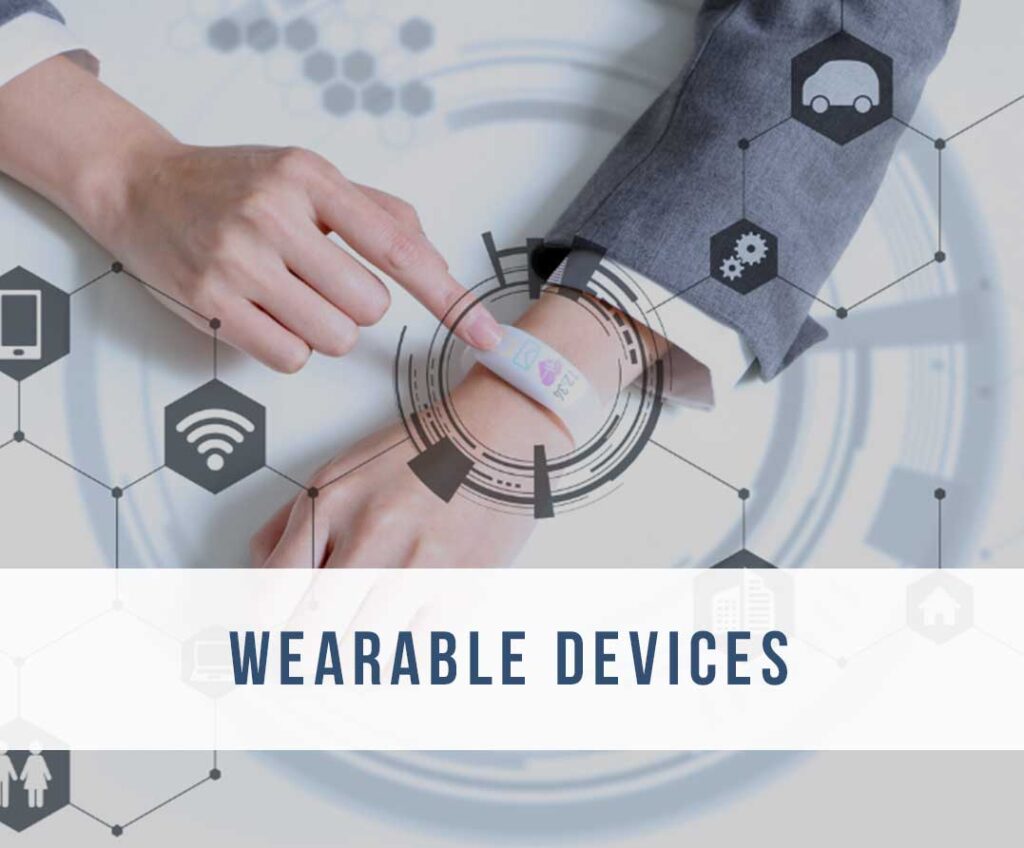 Imagine being assigned a 40mm x 40mm guardian angel! This may sound strange, but true for R. Rajhans, a senior citizen living in India who detected his irregular heart rhythms and received timely medical attention because of the Apple Watch Series 5, gifted to him by his son. This is not an isolated incident; many such cases have been observed across the globe emphasizing the vital role that smart wearable tech provides.
Wearables like activity trackers, smart medical devices, smartwatches, touch-enabled t-shirts, and more, can provide quality insights on biometric parameters of the body. Continuous monitoring and processing of these parameters by embedded sensors offer an enhanced lifestyle. The wearable tech market is expected to cross USD 100 billion by 2027, growing at an impressive 15.9%. While many companies want to be a part of this growth story and grab a substantial share of this pie, designing them can be quite challenging. The bitter truth is that only a select few will taste success. In light of that, the following points should be taken into consideration while designing these wearables:
Best Design Practices for Smart Wearables
1. Low power and energy-efficient protocols: Smart wearable devices run on tiny batteries that are expected to last for days at a stretch without charging them. Because these devices are an integral part of a user's daily life, enhancing battery life is of utmost importance. Designers should stress selecting PCB components with low run and sleep mode currents. In fact, many chip makers have designed ICs that consume less than 100nA in sleep mode, making them an apt choice for wearables. In addition to the components, energy-efficient wireless protocols should also be adopted wherever possible to reduce power consumption while transmitting data. These protocols can be industry-standard like BLE, Wi-Fi, and NFC or proprietaries like MiWi and SimpliciTI. Further minimization of power consumption can be achieved by reducing the frequency of data transfer outside the device and transmitting raw data to the cloud, where the data can be stored, processed, and re-transmitted if needed.

2. Small form factor: No one wants a giant electronic device attached to their skin like glue all day long. In the domain of wearable design, where every millimeter counts, miniaturization is a must, and emphasis must be placed on this factor while choosing components like flexible batteries and modules with integrated antennas. A highly compact and sleek design with many features is the ultimate choice of hardware engineering experts and enthusiasts.
3. Ensure security: Many people have cited privacy and security of the data as their biggest concern with wearables and it's not difficult to see why that's the case. We carry them wherever we go and these devices collect details of our daily lives, perform analysis, and even store data in the cloud. A lot of this data is quite personal in nature because of which improving security in such devices is a non-negotiable element of wearable design. Using MCUs with inbuilt hardware crypto engines, implementing software protection models, and utilizing better authentication techniques like passcodes or smart locks are a few ways to boost the security of these wearables.
4. Aesthetically appealing design: The smart wearable should appeal to all the user's senses to ensure continued use for a long time. This includes an elegant and robust industrial design that is pleasant to our eyes and comfortable to wear (preferably hypoallergenic). Also, the device must boast a visually appealing UI focusing on key concepts like lightweight interactions and glanceability.
5. Choose the right product development partner: The design of any wearable device requires a multidisciplinary approach. A confluence of disciplines like electrical, firmware, software, mechanical and industrial design is needed to create a market-ready product. Very few companies can boast of having such eclectic teams, but it is not a viable strategy for most. Having the right partners with prior experience in wearable tech can save time and money.

Wearable tech is here to stay and Covid-19 has only accelerated its adoption. As many tech companies ramp up their investment in the wearable segment in order to meet the burgeoning consumer demand, only the ones with the best design decisions and well-formulated marketing strategies will emerge as the winners of this wearable revolution.