One of our clients asked for us to lay out what options were available in the form of a module to accomplish a couple of things. Here's what Joe Fitzpatrick, our Sr. Electrical Engineering Lead, shared with our new client by explaining the reasoning, pros and cons, and pulling from our years of experience from previous IoT products.
In the world of IoT, there are literally millions of simple devices with one main chip inside acting as a dual-purpose processor and radio. These types of chips are ideal for low-cost, low-power, typically low complexity products, such as a pair of wireless earbuds or a Fitbit.
As electronics designs get more complex, like a Nest Thermostat or an iPhone, multiple dedicated processors and radios are required. In our case, we'd be looking at using a simple dual-purpose processor and radio.
Regardless, because this product has a Bluetooth radio acting as an "intentional radiator," we will need to go through FCC certification. This process can be a headache and leads IoT designers to make an important decision early on: use a pre-certified FCC module or create a chip-down design. The high-level tradeoffs for this decision relate to a few major aspects:
Physical size
Cost per unit
Design time
Certification cost/time
Physical Size (~1/3 of the size of the module in the final version):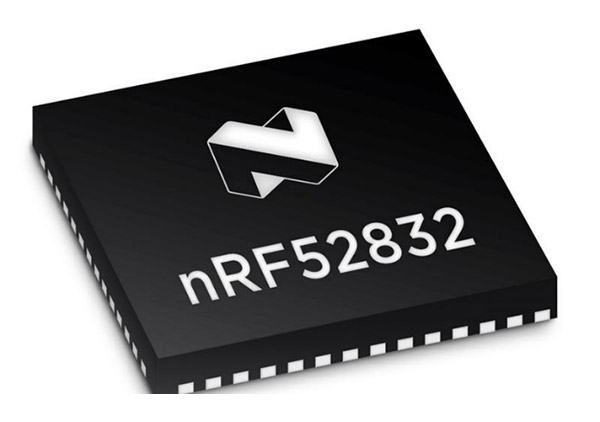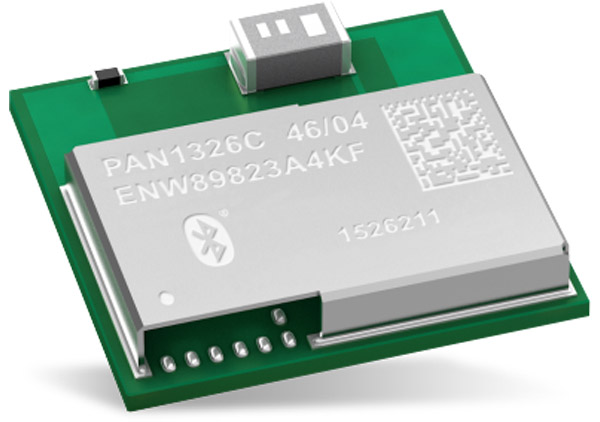 As far as physical size goes, we're going to need all the space we can get. Typically, a pre-certified module will be slightly larger because the module will include some extra electronics, such as an antenna and an RF shield. These extra parts take up space, but they are there to ensure peak performance, and a guaranteed pass during FCC testing. Choosing to use a pre-certified module would likely either increase the overall size of the product, or decrease the battery life due to sacrificed battery volume. These sacrifices may be in the 5-10% volume or lifetime range, if the device is about the size of a thumb drive.
Cost per unit:
Here's a clear-cut difference. The module we would likely use for this project comes in at $6.34/unit @ 1,000 units. The chip (+ some other required parts) we would likely use for this project comes in at ~$2.30/unit @ 1,000 units
Design time:
With a pre-certified module, most of the problematic work has already been done, so design time is typically reduced by a couple of weeks. With a chip-down design, it is highly recommended the first 1 or 2 prototype revisions be large enough for measurement tools to access test points on the PCB. In our case, that would mean the first prototypes may be larger than the final design. This is usually the case for any design, so this is not surprising. If we went with a pre-certified module, there would be less need to spread things out on the PCB for measurement, so we will be able to fit the electronics within the mechanical enclosure within the first 2 revisions.
Because we only have one low-power radio in this particular device, the difference in design time between a pre-certified module and a chip-down design will not be as significant as other IoT products on the market with multiple processors or radios. Again, we would estimate this difference to be ~2-weeks over the first two prototype revisions.
Certification costs/time:
After the prototypes have been tested, and all the design updates have been made, the device will be ready for pre-production engineering. In this phase we typically do things like small layout modifications, cost optimization, final size reduction, and certification setup.
If we went with a pre-certified FCC module, the certification process is much easier. Again, all the hard work has been done by the module designers, so the "testing" we would have to do is mostly glorified paperwork done by an FCC certified test lab. This is typically <$2,000, and can take about a week. It's rare that a design would fail this test and require updates or re-testing.
If we went with a chip-down design, the certification process is a bit tougher and takes longer to test. The process can take up to a couple of months, and cost up to ~$20,000, depending on the complexity of the system. Our system would be simple, but the size constraint could make it difficult to do things like tuning antenna performance.
Sometimes chip-down designs submitted to the FCC end up failing certification tests. That's bad news and may require the designers to figure out the problem, make the updates, then submit again for another round of testing. Luckily, Breadware has good relationships with several certified testing houses that can help us through the process and largely avoid things like this from happening.
Summary:
Typically, our customers will take this information and decide what is their top priority: time to market/development cost, or production BOM. There will be always be an inflection point where it will be economical to migrate to a chip-down design when the build quantities get into the 10ks+.
Here's a rough summary:
Final Note
Obviously, the answer for which path is the right way forward will vary from client to product and rightfully so — there's a lot to unpack depending on requirements. We also understand the building business and stakeholder pressures that can exist, too.
Which is why we're here to be your IoT guide in your next project. Interested to learn more about how we operate?
Schedule a free 15-min IoT consultation with Ron Justin, our Director of Connected Solutions.
We're also a simple email away from getting started on your IoT initiatives. Contact Us.